Polygon1000 Model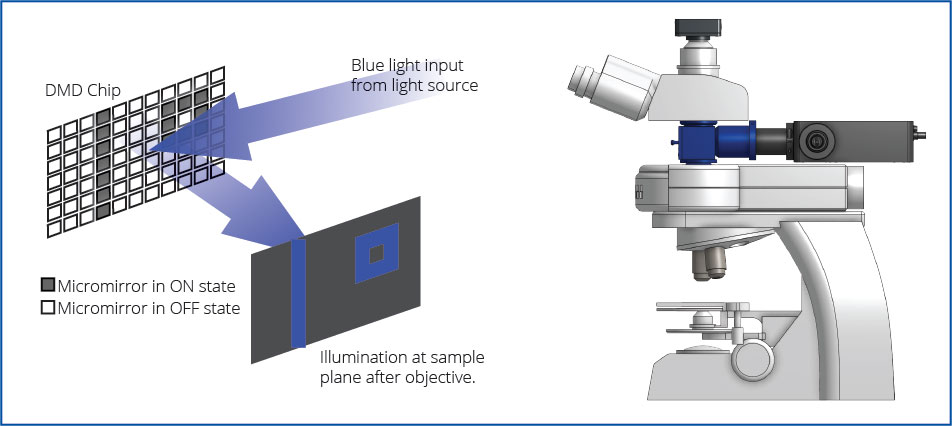 POLYGON1000-G
★  Accepts a 3mm-core liquid lightguide.
★  Can be used with any light source.
★  Wavelength range: 350-700nm.
★  Interchangeable front tubes available for fine resolution or large field-of-view. 
POLYGON1000-DL
★  Accepts SMA-connectorized optical fiber patch cord (400μm, 0.22NA recommended).
★  Compatible with laser sources
★  Wavelength range: 400-700nm.
★  Interchangeable front tubes available for fine resolution or large field-of-view. 
The Polygon pattern illuminators are Mightex's market-leading modules for targeted photostimulation. The Polygon provides precise spatiotemporal control of light with subcellular resolution, making it the perfect illumination tool for scientific research. Compatible with any upright or inverted microscope, the Polygon enables researchers to send light to anywhere on their specimen, and in any shape, size and complexity now within a large projection field-of-view. In addition, multiple regions-of-interest (ROIs) can be illuminated simultaneously, and patterns can be switched at kHz speeds.  Different wavelengths of light can be used with the Polygon for virtual simultaneous multi-color illumination of unique ROIs. Polygon systems seamlessly integrate via TTL with other equipment such as electrophysiology tools or cameras
1, Larger field-of-view. Finner resolution
New, larger DMD chip combined with interchangeable front tube optics enables larger field-ofview without compromising resolution and power.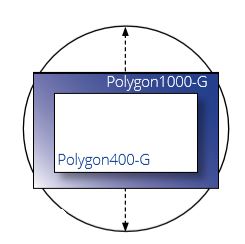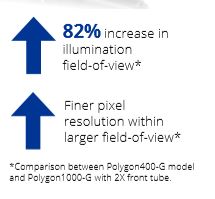 2, Faster than anything else in the market. 
Increased maximum frame rate means better temporal resolution for advanced physiologically-relevant experiments and virtually simultaneous 2-color illumination of distinct ROIs.

3, Real-time projection. Closed-loop experiments.
Faster uploading time enables the Polygon1000 to perform real-time pattern illumination for closed-loop experiments (faster than HDMI refresh rates [60Hz/120Hz]).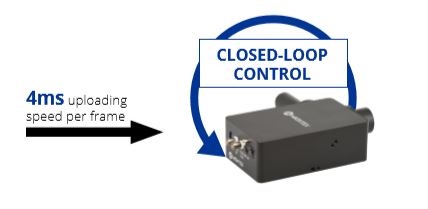 3, More power. Extra flexibility.
Larger chip and improved optics enhance transmission efficiency enabling the Polygon1000 to achieve increased power density at the specimen level, and giving the researcher more room for intensity control.

MPI MULTI-PORT ILLUMINATOR
Mightex's MPI is designed for simultaneous mounting of a Polygon and a lightguide-coupled light source for epifluorescence widefield illumination. The mirror cube holds any standard sized microscopy dichroic, which can be easily replaced. If you use an inverted microscope where the back port is already occupied by a traditional epi-fluorescent illuminator, with an MPI you can keep the fluorescence imaging capability.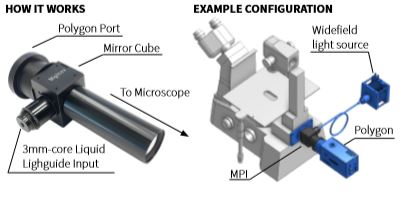 TECHNICAL SPECIFICATIONS